As DecoBike kicks off the opening weekend by setting into motion San Diego's long-awaited bike-share program, a car plows into  Decostation 143 at 28th and C Streets in Golden Hill, taking out all but one of the bikes, before resting atop the edge of the rack. The driver flees the scene. Thankfully, nobody else is hurt.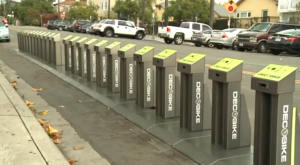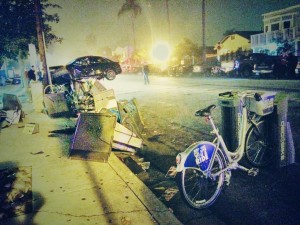 I stumbled upon the scene on my two-mile walk home from South Park (my bike is in the shop), and was told I missed the crash by ten minutes. A few disabled veterans who are housed across the street were the only others standing around this spectacle. One commented, "This coulda looked a lot worse had there been cars parked there."
"Or, worse yet," I added, "if there were any customers."
After being shooed away by the cops, I couldn't help but think that this was an omen warning us that this venture is bound to fail. It's not that I want it to fail, I've just always assumed it would.
. . . . .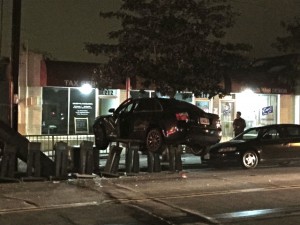 As an avid cyclist and advocate of rights for pedestrians and cyclists alike, I support the idea of a local bike share program. I applaud the efforts of the city to make the streets safer and more assessable, as has been a priority of our recent slew of mayors  Filner, Gloria and Faulconer. Organizations like SD Bike Coalition and BikeSD have been great advocates for the cause, shown by events I've enjoyed, such as BikeToWorkDay and CycloSDias. I have felt safer riding in lanes with "sharrows", and jumping on the San Diego Bike Loop down 4th Ave in my own green lane has been fun (while it lasts).
A bike-share program would be the next logical move. In steps DecoBike to make our dream a reality. If they could make it work in Miami (even if at the expense of taxpayers), why not here?
The launch of DecoBike in San Diego has had its fair share of criticism. People have been whining about the delayed start, about the "Decostations" taking up much-needed parking spaces, or about it being the most expensive program of its kind in the country. These complaints seem trivial compared to much larger concerns surrounding accessibility and safety.
What I've wondered from the start, and was reminded of last night, is who exactly do they expect to use these bikes, and how do they assume the use of them will increase the safety of our streets?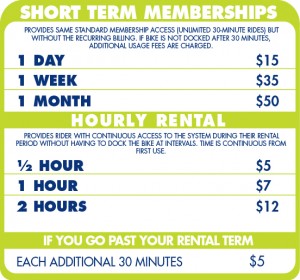 I get that they could help tourists get around. For those who can dish up the cash it might be a cheaper way of  seeing the city than the Segway tours of the Gaslamp or a GoCar tour of Little Italy. And it would be a great way to speed up the commute between public transit options, assuming they can also figure out how the trolley and busses work, and they don't get nudged off the street by the empty pedicab driver wondering where her customers have gone. But I haven't figured out how a visitor to the city would be willing or able to get one of those clunkers up into Golden Hill or Hillcrest from the much flatter touristy areas downtown.
I think it's safe to assume that few to no local inhabitants of the uptown areas will be making much use of them. If there is any incentive for a resident to rent rather than buy a bike from one of the many local bike shops, I have yet to see it. I can't buy the narrative that Todd Gloria used in his State of the City Address, saying, "This partnership with DecoBike will not only expand bicycle access to more San Diegans, but will improve the connectivity of our bike, pedestrian and public transit systems."  
If access is a priority, they could start by considering the needs of residents who already rely on public transit and who could gain from the many benefits of biking, and install stations south of the 94 or east of 30th Street.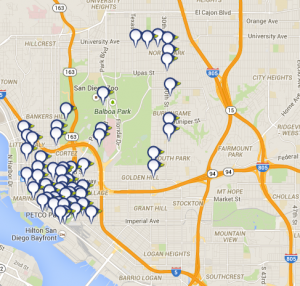 So if locals either can't find use for or have access to these bikes, this leaves them to serve the only significant population of potential users in the uptown areas of San Diego left – the bar crawlers.
Local bike groups who presumably know the streets have been organizing bike beer crawls forever. And while I have my doubts that there is safety in numbers in a situation like this, they have been encouraged by the the many bike corals and parklets, particularly along the ever-growing craft brew Mecca of 30th Street, an already pedestrian friendly route.
Enter intoxicated outsider who, rather than carpooling, hopping on a bus, calling a cab, or taking the easiest, safest, cheapest greenest and healthiest option –  walking, decides instead to  hop on a DecoBike. I can't imagine that a bar crawler unfamiliar to the streets while riding a universal bike with an adjustable (read swivel) seat and no helmet is going to do anything but jeopardize the safety of everyone.
Who thought that putting these bike stations on the corners of narrow streets of Golden Hill, South Park and North Park would do anything but promote pub-crawling catastrophes, especially with the occasional drunk driver trying to dodge them?
Now take DecoBike's first response to my Tweet showing the levitating car: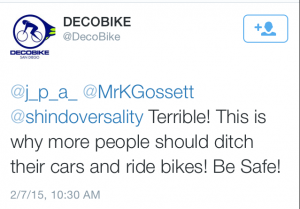 If you follow the logic, it might seem like DecoBike is support drunk biking. But that would reading into it too much. It's all about safety! Right?
We can also assume that the people of DecoBike aren't blind to the fact that the utopian idea of car-free streets won't be happening around here anytime soon. So all we need is more people riding bikes, specifically their bikes.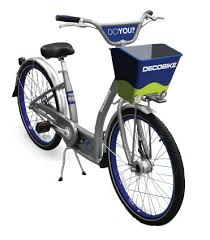 The fact that there were no cyclists around the Golden Hill station last night after bars closed is part of the reason why nobody was hurt. DecoBike is spared the PR nightmare because nobody was using this station at the time. Nor, as I've been saying, will anyone ever be.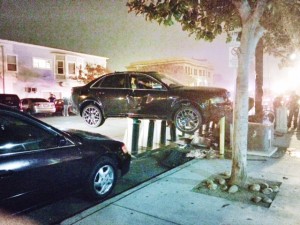 I hope I'm wrong. I hope the whole experiment works. But it won't unless DecoBike and the city work in partnership with the people who best know the traffic patterns and other nuances of the streets – namely actual real-life cyclists. But this is one step they can make to "Be safe!"
. . . . .
 By the time the sun came up in front of Starbucks this morning, there was no evidence of Decostation 143 or the destruction from a few hours early. Cars  parked in its place, and patrons sat on the patio slurping their frapachinos wondering if that whole bike-share thing was just a figment of their imaginations.